Top 18 most aggressive dog breeds in the world
Dogs and people are always considered as friends, images of dogs are always appearing with cute, approachable and loyal looks in movies and videos spread on the internet . And even in reality, they are usually very cute, but few people know that there are some species that are not like that, they are fierce and extremely dangerous when out of control.
The best characteristic of dogs is their absolute loyalty to their owners, they are intelligent, friendly, lovable and good at work. However, for some reason they can become extremely aggressive and dangerous. The gentle four-legged friends suddenly have a very scary tantrum, especially for large dogs.
In the world today, it is estimated that about 394,000 people are bitten by dogs every year, and there are a few cases of death from dog bites, we have heard names like Pit Bull, Doberman…. However, the following list will have 18 of the most aggressive dog breeds in the world that Reviews365 will introduce to you.
1. Tosa Inu dog - fierce and extremely brave mastiff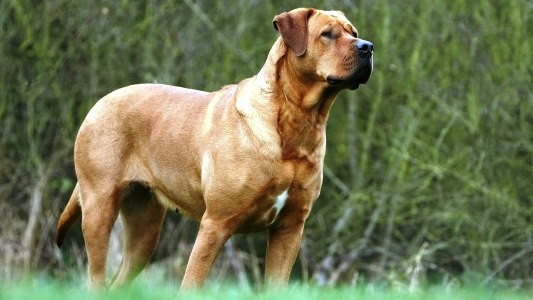 Adult Tosa Inu Height: 60 cm
Weight: 45–70 kg
Tosa puppies are known as Japanese mastiffs and of course they originate from the country of the rising sun (Japan). On the surface, Tosa Dogs appear to be gentle, but this is a very strictly controlled breed in many countries in Europe and North America because they belong to a group of particularly dangerous and fierce animals. In addition, they also have a few good traits of being very brave and fearless
2. American Bandogge - Aggressive and dangerous dog
Height: 51 – 76 cm
Weight: 50 - 60 kg
This is a crossbreed (American Pit Bull Terrier and Neapolitan Mastiff), most often the American Bandogge is used in the military for combat. Therefore, this is a breed that is warned about danger and aggression. Therefore, they are definitely in the Top of the most aggressive dogs in the world.
3. Cane Corso - Aggressive Mastiff
Height: males from 64 to 68 cm, females from 60 to 64 cm
Weight: males weigh 45 to 50 kg, females 40 to 45 kg
The Cane Corso is also of Italian origin and is also known as the Italian Mastiff. Its scientific name is Cane Corso Italiano and translates as bodyguard dog. Its personality is just like the name, ferocious and belligerent. Cane Corso has a large appearance with a lot of muscles, not only that, but they are also agile. The Cane Corso is famous for being descended from a breed of dog often used in battles in Roman times
4. Bull Terrier - aggressive and quick-tempered dog
Height: 53 – 56 cm
Weight: 20 - 27 kg
Bull Terrier (Bully) is also known by another name as crawling dog, they are well known in dog fighting games. Although they have a funny face, you should not underestimate them because of their killer ability when hunting. They are classified as one of the most aggressive dogs in the world. Bull Terriers are bold as well as extremely aggressive, so be very careful when teasing them.
5. Rhodesian Ridgeback dog - fierce dog with outstanding strength
Height: 63.5–69 cm
Weight: 34-38.6 kg
The Rhodesian Ridgeback is very ferocious and has a fitting nickname for them, "African lion hound", so nicknamed because with their strength, it is possible to pull a torn lion off. prey. The Rhodesian Ridgeback is often referred to as the South African Ridgeback and is also one of only three extant ridgeback species.
6. Dogo Argentino - a great looking hunting dog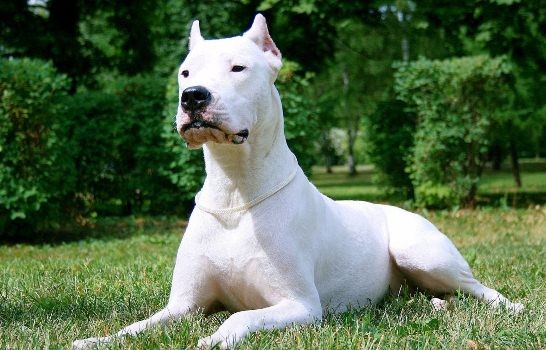 Height: 61–69 cm
Weight: 36–45 kg
The Dogo Argentino (Argentinian Mastiff) also known as Dogo has another name, the Argentinian Mastiff. Belonging to a natural hunting dog breed, the Dogo is bred from many different breeds and is extremely agile in finding wild animals. Large and strong appearance, but Dogo is not like other hunting dogs, they are friendly and easy to get along with people. In the UK, it is illegal to use a Dogo as a pet
7. Boer Boel Dog - Big Mastiff and Perseverance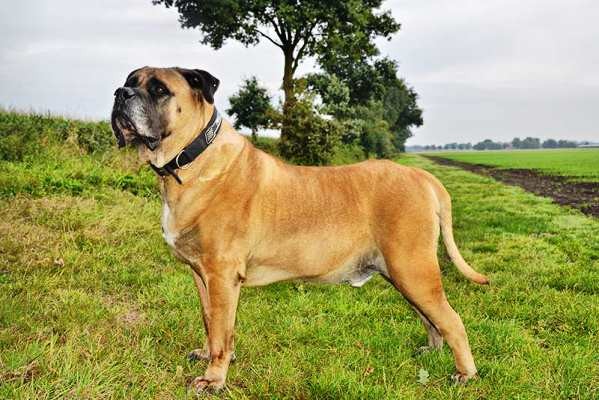 Height: Male 64–70 cm, Female 59–65 cm
Weight: Male 65–90 kg, Female 50–65 kg
Boer Boel is also known as South African Clam, their name also means the origin of which they were born. With a large appearance, Boer Boel can completely hunt big and fierce animals, especially when they are very persistent and fight to the end, even sacrificing their lives.
8. Gull Dong Dog - Aggressive and dangerous breed
Height: 76 – 106 cm
Weight: 54 – 90 kg
Looking at the size, it can be seen that Gull Dong possesses a huge body, they are a hybrid dog (Gull Tarrier and Bully Kutta) and originated in Pakistan. Known as a warrior dog, Gull Dong is as fierce and dangerous as they appear, when out of control, they become extremely scary monsters.
9. Basenji - Dangerous hunting dog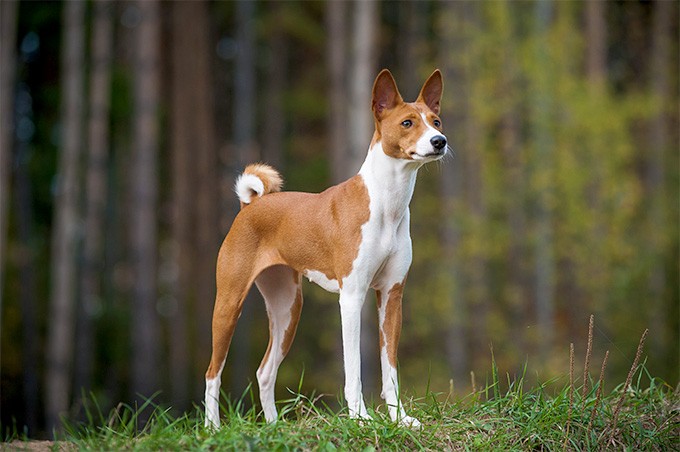 Height: 41–43 cm
Weight: 10–12 kg
Smaller than other hound breeds, the Basenji is no joke, though, having a reputation as the oldest hunter. The signs of these dogs appeared about 5000 years ago, they are very difficult to train and sometimes become very dangerous when over-played.
10. Saint Bernard dog - breed for big and smart
Height: 70 – 90 cm
Weight: 64–120 kg
Like Gull Dong, St. Bernard is a big guy. In the early days, Saint Bernard was popularly raised on the farm to herd sheep and cattle for the purpose of housekeeping and rescue. A long time in development, St. Bernard is often used on seconded missions. With their large size and famous story of rescue in the mountains, although very friendly, they are still listed as dangerous dogs to humans.
11. American Bulldog - Strong and stubborn four-legged names
Height: 50–71 cm
Weight: 30–58 kg
American Bulldog , also known as American bulldog, is often used for hunting and keeping the house. The American Bulldog has a lot of muscle, a common trait of hunting dogs. Normally, they tend to be cheerful and friendly, sometimes with a bit of stubbornness that makes people scared. When they are bloodthirsty, they will become out of control and persistently chase their prey until they are defeated.
12. Great Dane - a tall dog that easily becomes aggressive in tantrums
Height: 71 – 86 cm
Weight: 45 – 90 kg
Great Dane (German Mastiff) is famous when it was entered in the Guinness Book of Records with the feature of being the tallest in the world. Normally, the Great Dane is a guy with a gentle nature, but just try to make him mad and you will be surprised because they can easily defeat a grown man. Also an old-timer, the Great Dane is said to have been in common use in Greek times. In addition, traces of them have also been found in Egypt, Rome and in the temples.
13. Fila Brasileiro - A fierce and big dog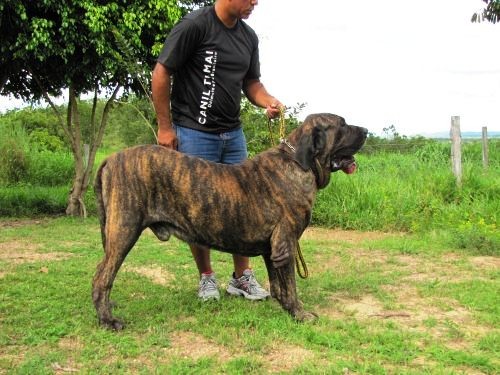 Height: Female 60–70 cm, Male 65–75 cm
Weight: Female 57–73 kg, Male 64–82 kg
Fila Brasileiro is of purebred origin from Brazil, is one of the hunters with a large body and a very aggressive, aggressive and impulsive personality. They don't like humans and have very strong reactions when they come forward. However, Fila Brasileiro is extremely friendly and gentle with children. In many countries around the world, to protect people's safety, they are forbidden to be kept in families.
14. Doberman - handsome is nature, ferocious is instinct
Height: Female Male: 66–72 cm, Female 61–68 cm
Weight: Male 34–45 kg, Female 27–41 kg
More popular in recent years, Doberman is often used as a housekeeper, farm and especially as a working dog. The most accurate name of this breed is Dobermann Pinscher, when trained professionally and well, they will become extremely likable pets in families. Intelligence, quick learning are special abilities and make them stand out from other species, but be more careful with the aggressive instincts of this species.
15. Husky dog ​​- become aggressive when turning into a wolf
Height: Female: 50–56 cm, Male 54–60 cm
Weight: Female 16–23 kg, Male 20–27 kg
Originating from Russia, the Husky that we often know is a good, mischievous dog with a very beautiful appearance when wearing a thick, smooth coat. However, these are domesticated Husky dogs, originally Husky was raised to be a sled dog, but later they became family pets. Husky dogs in the wild are not like that, they resemble wolves and become much more ferocious. The most ferocious dog in the world.
16. Tibetan Mastiff - absolutely loyal and aggressive when annoyed
Height: Male 66–76 cm, Female 61–71 cm
Weight: Male 45–73 kg, Female 34–54 kg
Famous for its lion-like appearance, Tibetan clams are always sought and sought by giants. The original purpose of Tibetans raising them is to protect livestock and family members from bloodthirsty predators such as wolves, tigers, and bears. People love them because the Tibetan clam is an absolute loyalist, but their large size also comes with potential dangers when out of control.
17. Pit Bull - a cold-blooded ferocious dog in all wars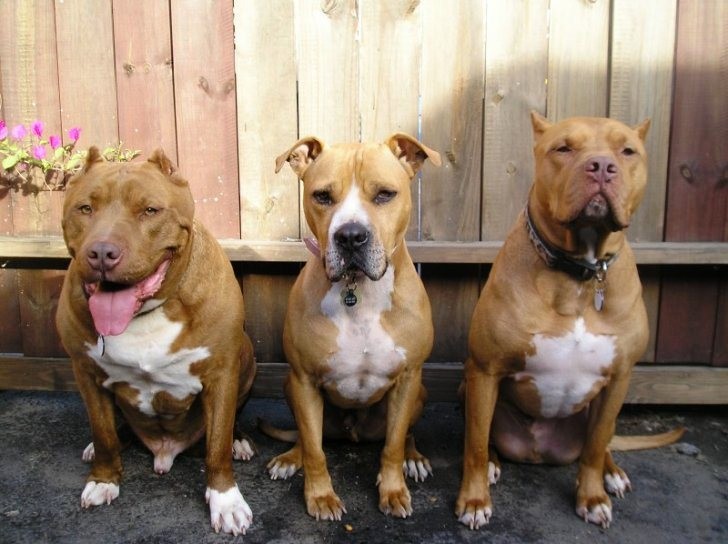 Height: 45 - 55 cm
Weight: 18-22 kg
Pit bulls are mentioned a lot in the cases of attacking people and cutting to death, they are the most obvious danger. Originating from the United States, they are belligerent and tenacious, people often call them cold-blooded. In every dogfight, they will try to kill the opponent before stopping.
18. Alaskan Malamute - It's about becoming a dangerous dog right away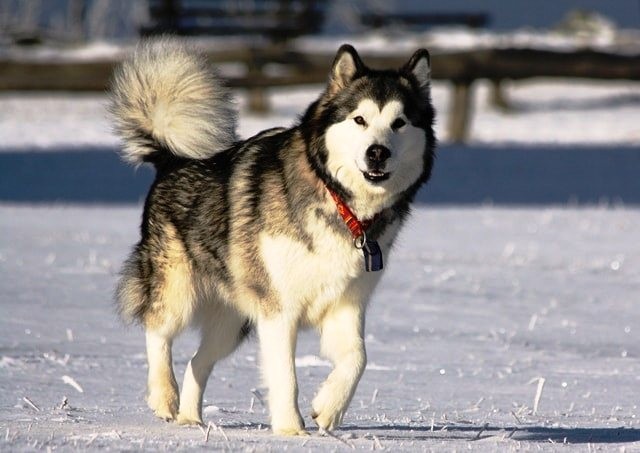 Height: Female 56–61 cm, Male 61–66 cm
Weight: Female 32–38 kg, Male 36–43 kg
Similar to Husky, Alaska is also raised by many people because of their extremely cute appearance, especially young people. When not fully domesticated, Alaska Dogs are often used to pull sleds because they are very durable, strong and able to withstand low temperatures. Because they are very strong, they are mischievous and easily turn into vandals in a moment if not exercised regularly. Like Husky, the natural Alaskan species is also very dangerous.
Theo Reviview 365 tổng hợp